UPDATED: December 1, 2019
About Facial Epilator
Removing body hair and facial hair is one of the essential beauty regimens that women follow. If you have very little hair growth on your face, you are lucky. But, many women suffer from substantial hair growth on their faces that makes them look odd. They feel embarrassed and go for threading or waxing. But, these processes are quite painful. And if your skin is too sensitive, you will have a crash.
How to get something non-messy and straightforward way to remove your facial hair? Why don't you use a facial epilator? Buy a branded one and follow the user manual. You will get to know how to use the device. Once you use a facial epilator, you are relieved for three to six weeks. How does the device work? Have a look-
Step 1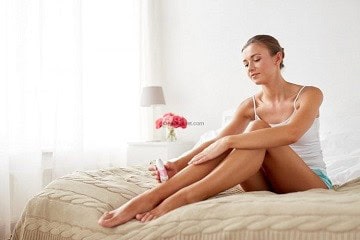 Remove all lotions and makeup.
You need to clean your face well.
Pat dry it.
Make sure the hair on your face is ¼ inches in length as this is the minimum length of your hair that the epilator can clean well.
You should not use the epilator if the facial hair is not ¼ inches long. In that case, you need to wait.
Step 2
Now, turn on the device.
Adjust the speed according to your preferences.
According to experts, you should start at a lower speed and then adjust the speed according to your preference.
Step 3
Now, press the head of the epilator gently on your face under the area where you want to remove the hair.
You should position the epilator's head in a way so that it rests flush against your face.
Start gliding the device upwards to the opposite direction of hair growth.
Thus, you can remove unwanted hair from your face.
Step 4
Once you are done, you should apply moisture immediately to the area you have just cleaned. Hair removal makes your skin rough and dry. Moisturization is, therefore, a must, after hair removal. Again, cream or lotion can minimize the harshness that you get while using the epilator.
Step 5
Once your entire hair removing process is done, you should switch it off and unplug it.
Remove the head of the epilator from the device and use the brush to remove all hair.
Now, wash it under running water to clean properly.
If still hair sticks to it, you can soak the head in a solution of warm water and dish soap. After washing, you should dry it well before keeping it.
These are the steps to use a facial epilator. This is one of the best ways to remove hair, especially facial hair without any pain and mess. But, you should always remember to clean the head of the device after each use. Otherwise, it may cause a bacterial infection. Also, you should not try it with anyone. Many of you will ask whether this method will hurt or not. Basically, for the first time users, it may hurt a bit. But, once you use it a few times, you won't feel any pain.
For easy and better use we recommend Braun epilator